Big Piney Historic Photographs
A major advantage in studying the history of Big Piney and Marbleton is that photography was around during the early development of these towns. This visual element enables us to see how Big Piney and Marbleton - as well as the people and their homes - grew and changed as time went on.
Budd Ave
Taken looking west down Budd Avenue.
Budd Ave
Photograph was taken looking southwest.
Budd Ave
This photo was taken looking east from where the middle school now stands.
Budd Ave
Taken looking east down Budd Avenue.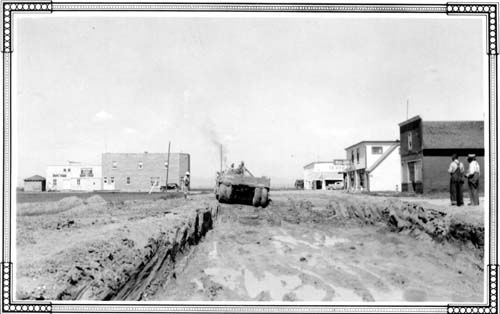 Budd Ave
Paving the road in the mid-50s.
Budd Ave
Paving the road in the mid-50s.
Budd Ave
Paving the road in the mid-50s.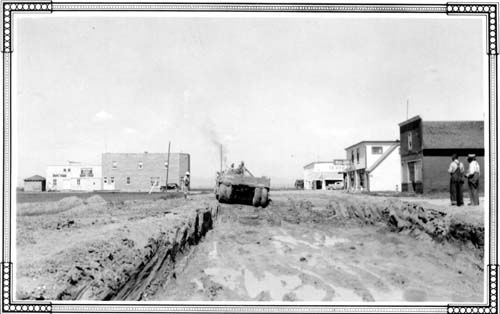 Big Piney Family Homes and Churches
Moffat House
George and Elaine Moffat were married in 1925 and moved into this home in 1928. They lived there the rest of their lives and it is still occupied by their family. It originally belonged to the Gilhausen family who homesteaded on Muddy when the Uinta County Irrigation Company built a canal out of Cottonwood. The claims were gradually abandoned when it was learned the canal didn't provide sufficient water for irrigating and most of the homesteaders left. Some of the houses were moved into town, and the Moffat home was one, as well as Guy Carr's house across the street. The Murdock children, Joe, Solon, Caryn and Pat, lived there during the winter in order to attend school in Big Piney before the Moffats bought it.
Congregation Church
The Congregation Church was organized in 1907 and incorporated in 1912 with John Budd, Christian Jensen and James Mickelson as trustees. The building was constructed in 1914 with bricks made in the kiln south of town.

St. John's Episcopal Church
St. John's was built in June of 1914 by the Lincoln Lumber Co., from Kemmerer, WY.
St. John's Episcopal Church
Daniel Budd's Store
From the late 1800's, when Big Piney was conceived. This was the first store/post office in town.
The Nichols Store
The Nichols store was built in 1898 by Fred Reardon on the Fear family ranch. It was moved a few years later by Frank Fear I. After it was moved into town, Julia Nichols moved her store into it along with a pool hall and barber shop. It was bought by Frank Burney who ran it for one year before building a larger store across the street in 1914.
Burney's & Co
This has been Big Piney's grocery store since 1914. it was renovated in the 1960's, which still stands today.
Burney's & Co 2
A front look at Burney's & Co.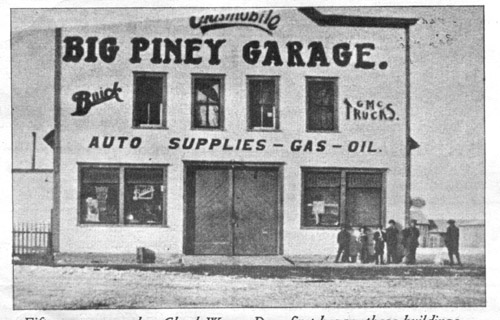 Big Piney Garage
The garage was opened by Lawrence Bess and Gull Whitman in either 1912 or 13. They later sold it to Irwin Covey and George Barp.
Big Piney Mercantile
BP Mercantile was owned and operated by the Tanner Family. L.D. first and then his son, Francis operated it until it burned down in the early 1940s. It was rebuilt but burned down again in the early 70s. The school district bough the lot it was on and the Fine Arts Building now stands there.